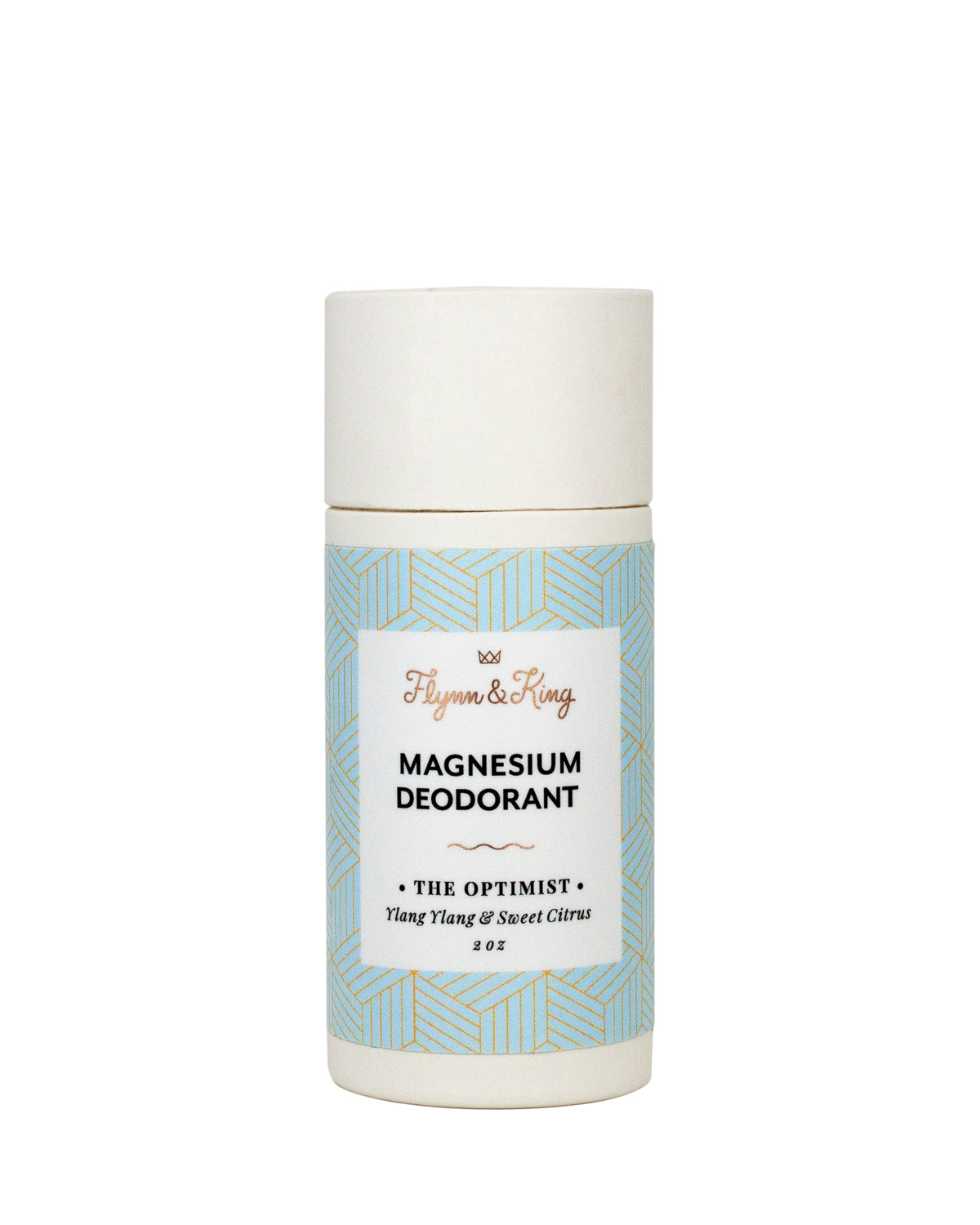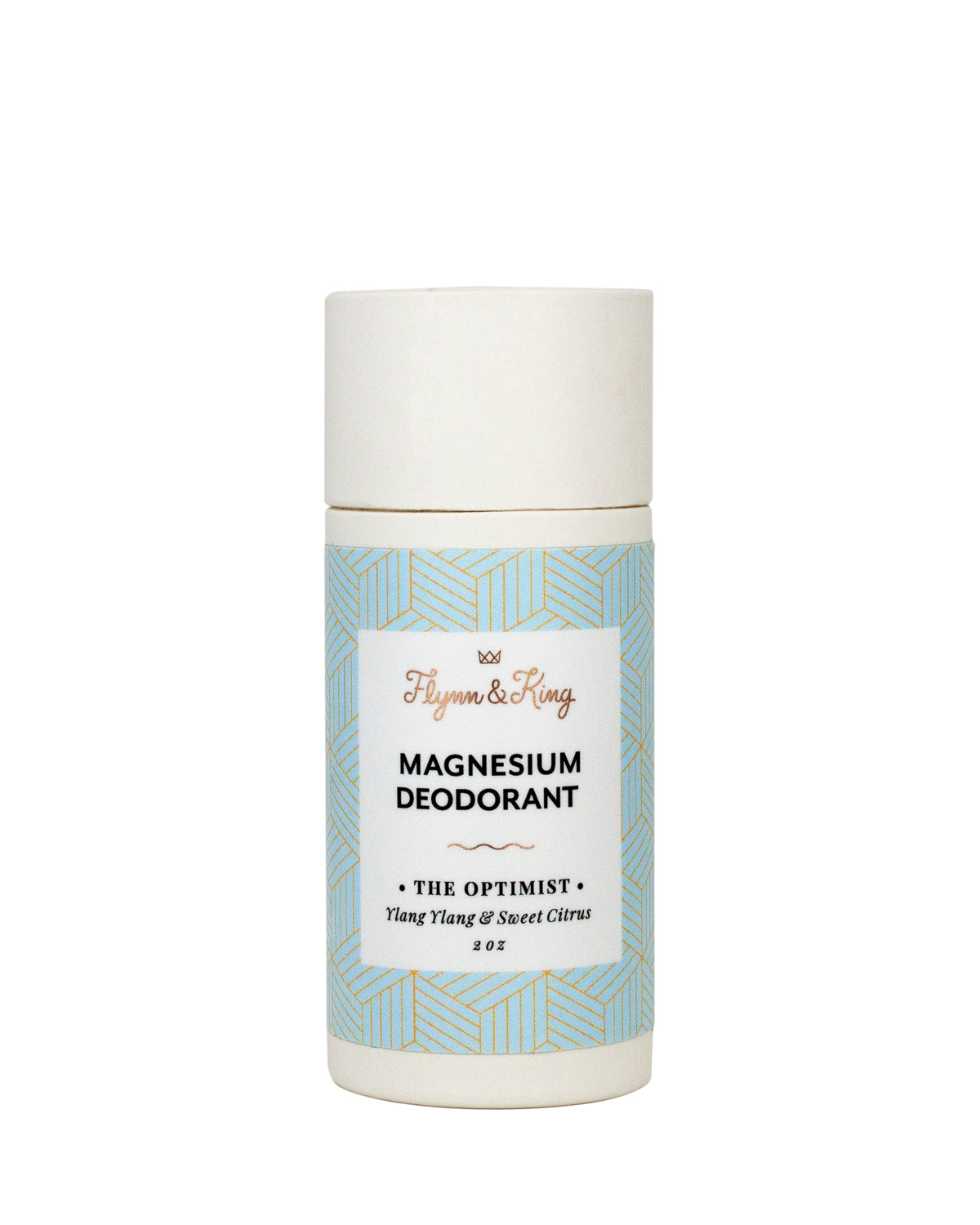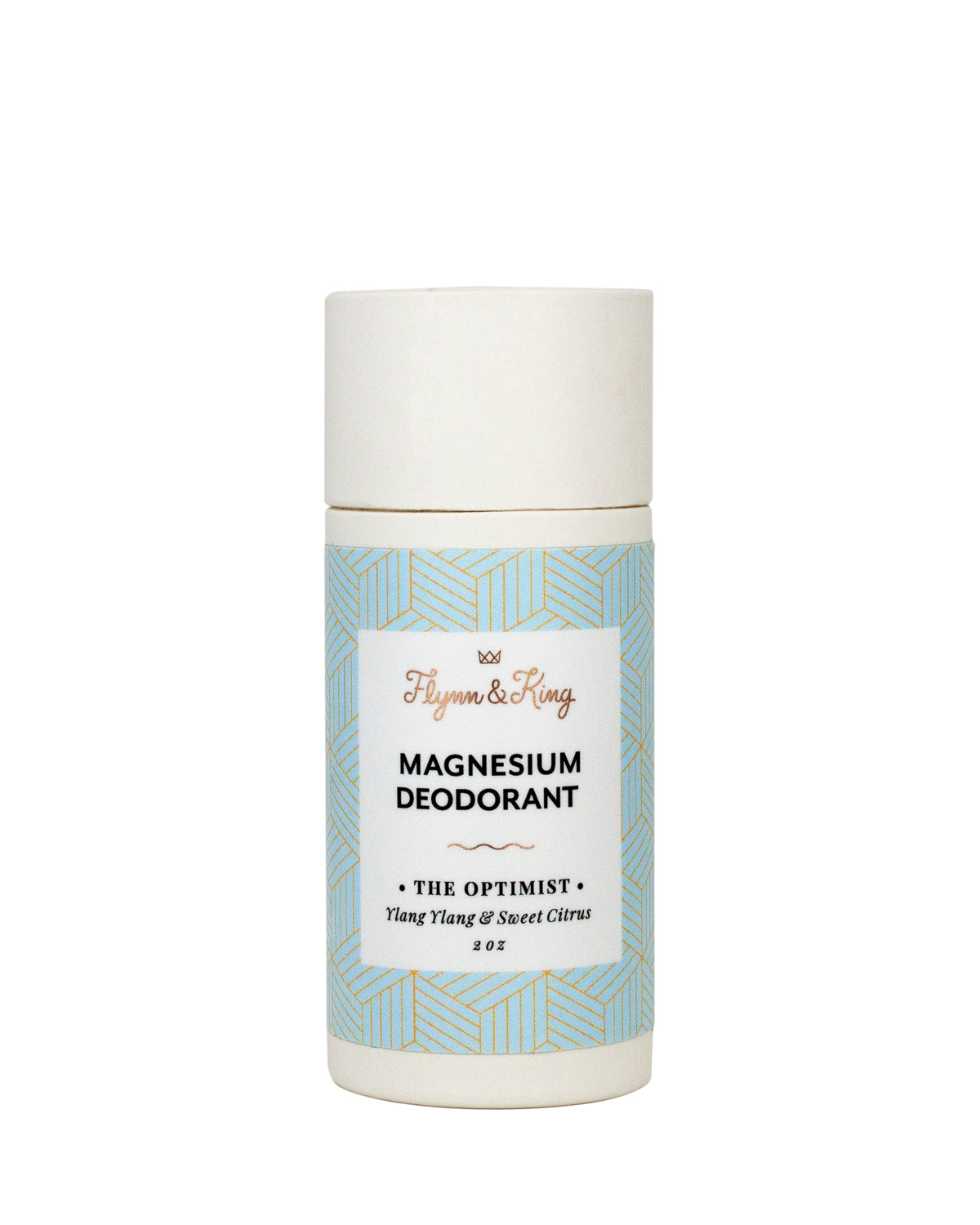 MAGNESIUM DEODORANT - The Optimist
To keep pits fresh, our baking-soda free deodorant utilizes ancient and pure magnesium salt, sourced from 250 million year old sites, 1500 meters underground in the Zechstein Seabeds of Northwestern Europe.  This special magnesium salt in conjunction with arrowroot powder provides a safe and all-natural odor protection with long-lasting dryness. Nourished in Babassu oil and Shea Butter, it's smooth emollience soothes irritations from shaving or skin conditions like eczema and psoriasis. This product is housed in a 2 oz biodegradable paperboard push-up tube. 
The Optimist; spritely, joyful, energetic, and sweet.  Your positive side can't help but show through. You see the world in ylang-ylang colored lenses, and you're a glass half-full kind of person. Hug yourself in top notes of sweet citrus and delicate florals, because baby, you're always on top.    
Magnesium salt absorbed through skin is used as a natural odor defense tool.
Filled with anti-inflammatories and Vitamin E, Babassu oil and Shea Butter soothes irritation from shaving or skin issues, bringing relief to troubled-skin.
Scented with aromatherapeutic essential oils to calm nerves and dispense olfactory delight.
Aluminum-free, baking soda-free, paraben-free, and worry-free.
MAGNESIUM SALT - Contains key trace minerals needed regulate body functions. Those who are deficient in magnesium are said to be tired, odiferous, have loss-of appetite, and crampy.
ARROWROOT POWDER - Grounded from the long tuberous roots of the Arrowroot plant, this lightweight starch helps absorb excess moisture and while keeping skin soft and silky.
SHEA BUTTER - Highly moisturizing and filled with anti-inflammatories, keeping irritated skin at bay is just a swipe away.
WITCH HAZEL - Witch hazel's natural astringency helps fight bacteria, speeds up healing, and contains the ability to balance oily skin.
Maranta Arundinacea (Arrowroot) Root Powder,* Orbignya Oleifera (Babassu) Seed Oil,* Butryospermum Parkii (Shea Butter),* Magnesium Chloride (Magnesium), Euphorbia Cerifera (Candelilla) Wax, Hamamelis Virginiana (Witch Hazel) Distillate,* Helianthus Annuus (Sunflower) Seed Oil,* Ricans Communis (Castor) Seed Oil,* Citrus Sinensis (Orange) Peel Oil,* Citrus Limon (Lemon) Peel Oil,* Cananga Odorata (Ylang Ylang) Flower Oil *Organic
Push up a small amount of product. Apply a layer of deodorant onto cleansed skin. A tingling sensation might occur and will lessen with continued use. If rash or irritation occurs, discontinue use.